Configure Appointment Details
Appointments System
We offer a comprehensive range of appointments and times to suit your needs. Our appointments run from 08:30 – 17:30, with one early surgery per week for those with work commitments.
The reception staff will offer you the first available appointment with the doctor of your choice. If you are unable to wait for a routine appointment reception staff are trained to ask for a brief description of your symptoms. This information is then used by the duty doctor to prioritise emergency appointments, home visits or a phone call depending upon clinical need.
We do not offer walk-in appointments.
Students
At times we may have medical and nursing students working in the practice. During these times we will seek your consent for their presence during a consultation.
If you do not wish a student to be present, we will respect your wishes at all times.
Cancel an Appointment
It is important that you inform the reception staff if you are unable to attend your appointment, this will allow that appointment to be offered to another patient. If you fail to notify the Practice that you are unable to attend, you will be sent a letter informing you that you have defaulted from your appointment. Persistent defaulters may be removed from the list.
Text Reminder Service
We have a texting service which allows you to receive confirmation and reminders about your appointments.
Please ask our reception staff how to register for this service.
Please remember to update your contact details with us when you change address, telephone numbers and email address.
Late For Your Appointment
Please attend your appointment on time, if you are late you may not be seen. If you are not seen you will not be able to rearrange your appointment until the next working day-except in the event of an medical emergency that requires immediate attention.
Interpreter
If you require an interpreter to attend with you when you see your Doctor please notify the receptionist and this will be arranged for you.
Home Visits
A request for a GP home visit should only be made if a patient is medically housebound or too unwell to attend the surgery. The doctor can see 5 or more patients in the time it takes to do home visit so it is critical this essential service is not abused.
Home visit requests should be made as early as possible, ideally between 08:30 – 10:30. Usually home visits will be done after morning surgery.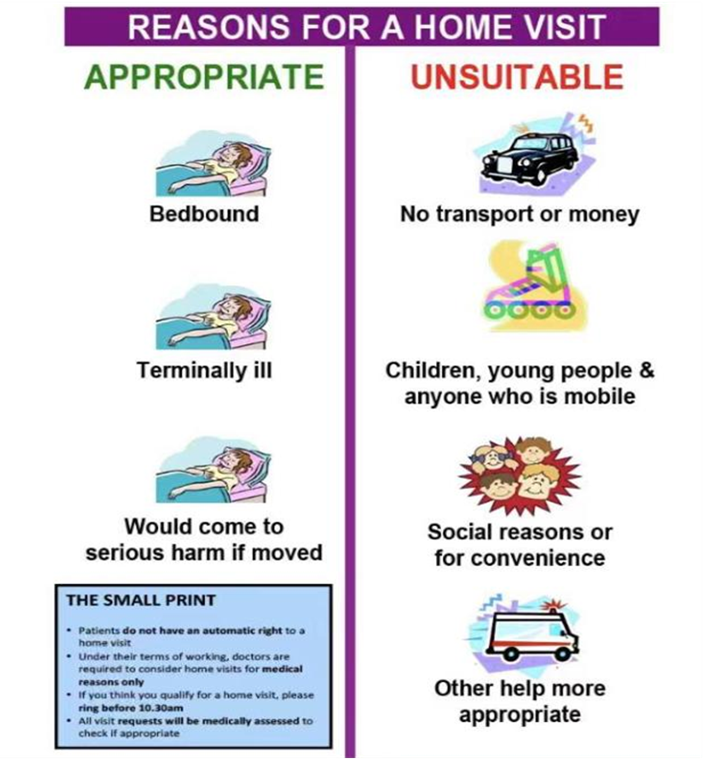 Common Complaints That Often Do Not Need a Visit to the GP
Colds
Even in this day and age there is still no magic cure for a viral illness such as the common cold. Take plenty of fluids. If you have a headache or are feverish, take Paracetamol (or Aspirin in adults only). Do not bother to take antibiotics you may have in the house – they will have no effect. Steam and menthol inhalation will help relieve nasal congestion and stuffiness.
Coughs
Coughs are common symptoms and are usually associated with viral illnesses such as cold. They are the body's way of clearing bronchial secretions. Over the counter medicines from the chemist will often soothe the symptoms. Soft soothing drinks will also help relieve severe soreness. If the symptoms persist you should contact the practice.
Sore throats
Sore throats are common and usually caused by a virus. Symptomatic relief with Paracetamol or other soothing medication from the chemist is usually all that is required. If the sore throat persists for longer than 5 days or if the patient is generally very ill, advice should be sought from the practice.
Diarrhoea and vomiting
This is usually caused by a viral infection. The virus frequently gives grippy pains, there is no direct treatment. It is important to rest and take small amounts, very frequently, of clear fluids to counter the effect of dehydration. If the patient becomes generally very ill in themselves and particularly in the case of babies or young children they become drowsy, it is important to contact the practice
Useful websites for self advice
Other Useful Services
Pharmacy First Service
Pharmacy First allows patients to access FREE advice and/or treatment for a number of different common conditions
Uncomplicated urine infections
- Patients aged 16-65 years only
- Female patients only
- Patients aged over 2 years only
- Only if not in multiple skin areas
- Impetigo in previous 3 months - contact GP
- Patients aged over 1 year only
- Patients aged 16-60 year of age only
- If having symptoms for the first time - contact GP
Skin conditions – such as eczema, dermatitis and reactions following insect bites - Patients aged over 2 years only
Skin Infections – such as infected insect bites, cellulitis or nail infections
- Aged over 18 years only
- If patient has antibiotic allergy – contact GP
Minor Ailment Service
Community Pharmacies also offer a FREE minor ailment service to certain patients who are eligible. If your pharmacist thinks you need a medicine to treat your minor ailment then they may be able to supply it free of charge.
Minor ailments that community pharmacists can treat include:
Nasal Congestion
Hayfever
Cold sore
Sore throat
Mouth ulcer
Pain
Athletes foot
Acne
Ear ache
Wart
Verruca
Emergency Contraception (free for all)